How to Use FTP to Connect to and Edit Your Website
"FTP" or File Transfer Protocol technology has existed before the internet as we know it today; since 1980 in fact. If you are looking for a quick way to download edit and upload files on your website an FTP server very convenient to do so, though if you are looking for a good way to upload thousands of files to your server then there are much faster options (which will be talked about in future articles).
Almost every hosting package these days comes with an FTP server, in this example we are going to be using Godaddy because it is a very popular service and one I use myself. Though the steps of will almost identical using other services.
To Edit your website using FTP you are going to need these things:
FTP details from your hosting provider
An FTP Client.
Text Editor Software to edit your file
First step is top obtain the "FTP settings" from your hosting provider. To do this firstly log into your cpanel dashboard and look for the icon called "FTP Accounts"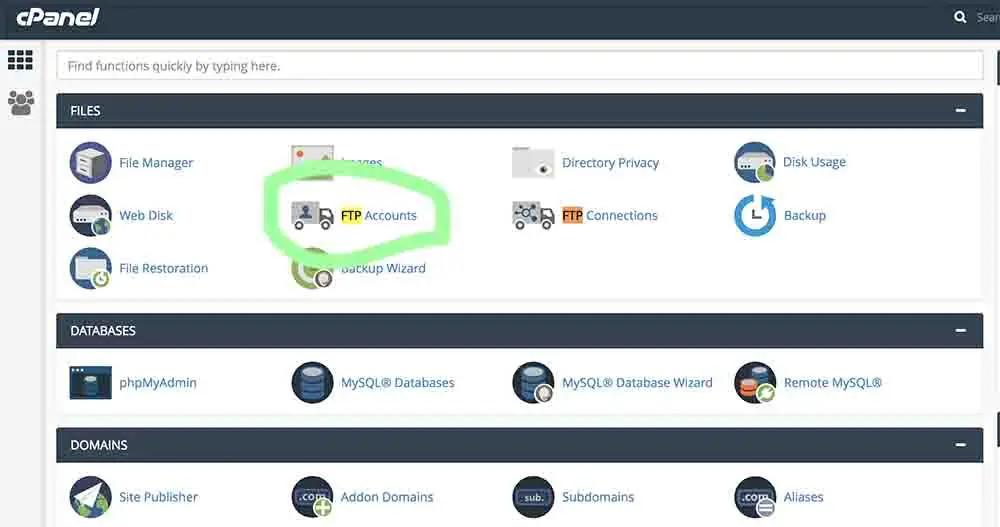 Follow the instructions to step up a new account and keep it's password saved somewhere safe. Once this is done you will be given the option to download a configuration file or to use the "configure ftp client" details. In this example we will go for the manual option which is slower to implement but will provide the opportunity to show how to set up the FTP client properly.
The FTP login detail will look something like this:
FTP Username: mysite
FTP server: ftp.skillsugar.com
FTP & explicit FTPS port: 21
The next step is to set up your FTP client. First of the client is the piece of software that will allow you to connect and coordinate upload/downloads from your server in the FTP protocol. There a few good tools for this purpose but easily the best in my opinion is FileZilla which should download now:
Run through the install process and open the program (I am running Filezilla in MacOs but it looks the same on any system). Upon opening Filezilla you will be presented with three main panels, Your local files on the left, transfer que at the top and remote (server) files to the right. Of course the later will be empty since we have not connected to a server yet so in the next step let get that set up.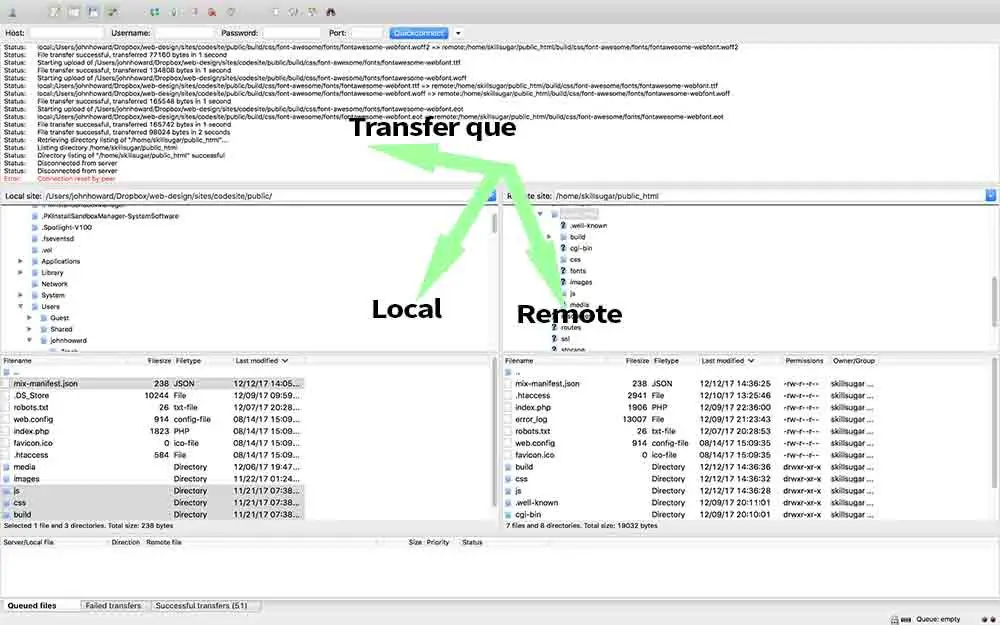 Note: Remember the local of the location and remote folders like the back of your hand as you could easily overwrite files you didn't want too!
The best way to connect and manage your FTP connections is through the built-in site manager. From there you can save all of your websites and make a connection to the server in one click rather than having to type in your details each time, it's really convenient. Let's site up our first site.
At the top left click file > site manager; or the icon provided on the top left: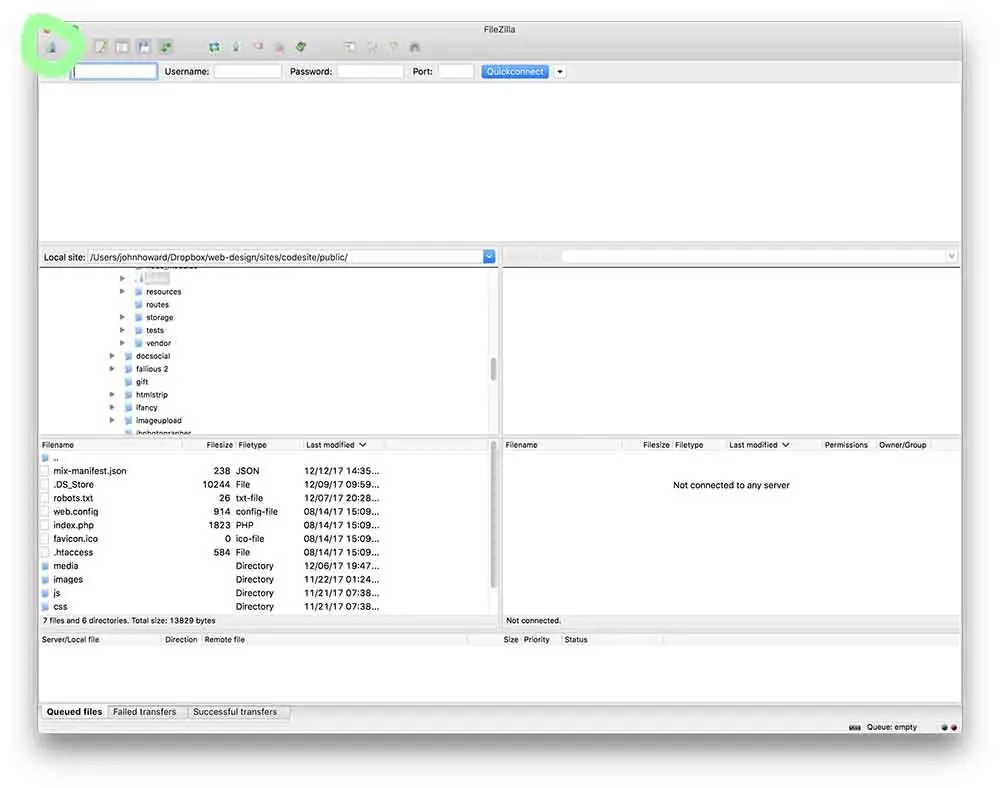 Add a site by clicking "New Site" located at the bottom left of the modal window.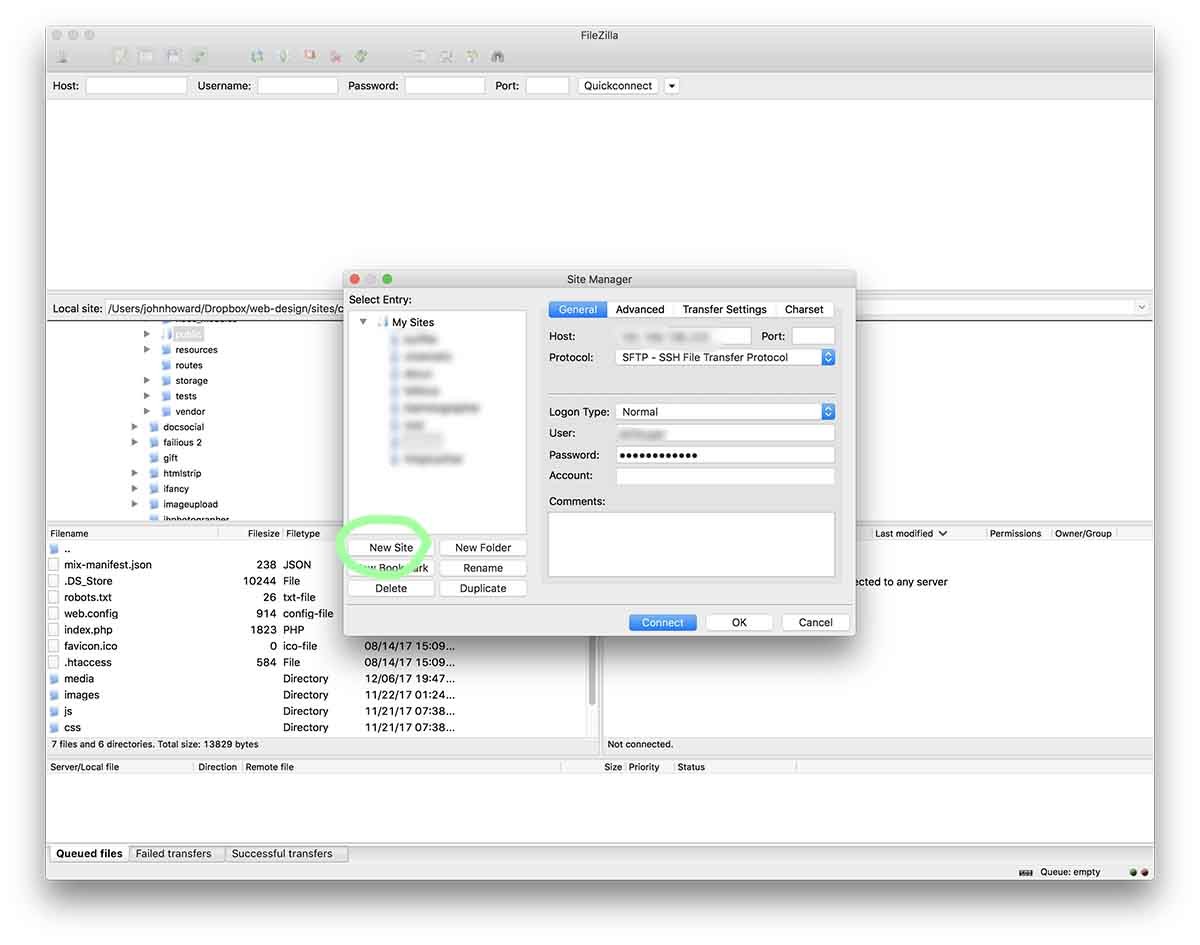 Now you will need to in put the details provided by your host. You will most likely not need need to change your port number so leave that empty. For Godaddy and many other providers you will want to set your protocol to SFTP which will give you an encrypted connection.
Hit connect and hopefully you will be granted FTP access and the remote panel will populate with folders. To upload or download simply drag and drop a file or folder in either direction.
Hopefully this helped you understand how to use FTP, if you have anything to say please comment below.